Skip to Content
Hurricane Shutters for the Florida Keys
Whether your Florida home or business could benefit from new hurricane shutters, Key West's Monroe Glass & Mirror offers an amazing selection to meet your needs. The Florida Keys have a rich history that most locals are intensely proud of protecting, and that's why we offer both traditional and modern hurricane shutters to accommodate those looking to authentically restore historic homes and those seeking additional protection from our hurricane season. And if you do tend to prefer the charms of shutters, we also provide installations for hurricane windows, so your home or business isn't left completely vulnerable to heavy-duty winds, rain, and flying debris.

Hurricane Shutters Come in Many Distinct Varieties
Hurricane shutters come in many distinct varieties, including automatic roll-down, accordion, Bahama style (awning) and storm panels, and we carry them all from some of the nation's leading manufacturers renowned for their quality and durability. Here's a handy guide to help you select the right hurricane shutters for your specific needs:
Automatic Roll-Down
Automatic roll-down hurricane shutters are among the strongest and most effective hurricane shutters money can buy. They're opened using a special cranking mechanism, which unrolls them from a box found above each window. Styles can be customized to uniquely complement your home or business.
Accordion-Style
Accordion-style hurricane shutters unfold similarly to automatic roll-down shutters, but they're usually much cheaper because they're manually operated. This type of hurricane shutter operates on hinged panels found on either side of your window.
Bahama Style (Awning)
Named after the country they originated in, this type of hurricane shutter provides awning shade and protection from flying storm debris. Mounted to the top of your windows, they're secured from below.
Storm Panels
Storm panels are hurricane shutters that are traditionally only put out when a hurricane is coming. This type of shutter is bolted at the top and bottom of your window and then unbolted whenever you don't need it. Many enjoy the flexibility of leaving their windows with a more open look with this type, but these can also become a hassle to install before and after every storm.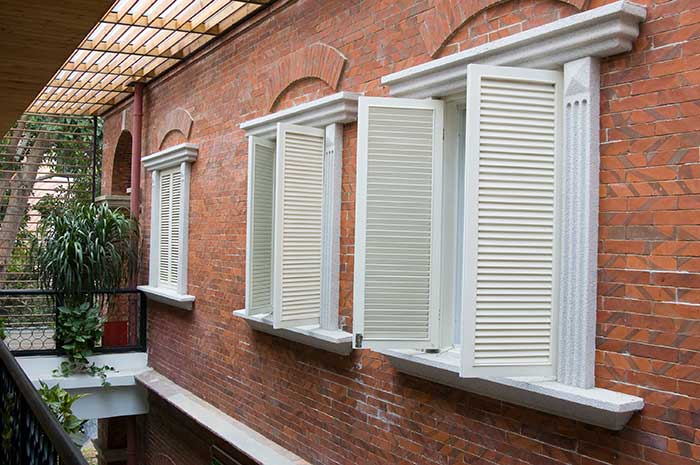 Take the First Step to Protect Your Home or Business
Take the first step in protecting your home or business from hurricane season with specially designed hurricane shutters installed by Key West's Monroe Glass & Mirror. Contact us to request your free estimate today. Committed to protecting you, your family and your livelihood, we only use the highest quality products from well-respected brands to ensure your satisfaction with the end results.
Financing Available
Get Approved